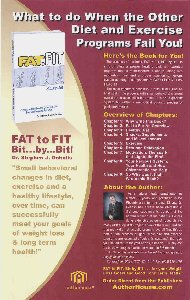 Click image to view PDF
11" x 17" Poster
$5.00 per poster includes
postage and handling

Brochures also available:
Folded, 4" x 8" for mailing or
counter display.
Cost dependent on quantity.
Contact us for details: 602-224-5141

Make check/money order payable to "Fat to Fit, Bit by Bit" and mail to:

Doholis Chiropractic
2536 East Indian School Rd
Phoenix, AZ 85016

Posters and pamphlets mailed via
USPS 1st class.