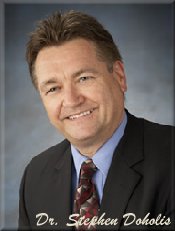 Dr Stephen Doholis was born in Toronto, Canada and grew up nearby, in London, attending the University the University of Western Ontario in London, and then the Canadian Memorial Chiropractic College, in Toronto, graduating in 1977.

Thereafter he moved to California, and during that time obtained advanced training in Disability Evaluation, earning finally the title of Qualified Medical Examiner while practicing in the San Diego area. (QME) In 1993 he returned to Arizona, where he has practiced in the Phoenix area ever since.

While practicing in California, Dr. Doholis held titles in Workers Compensation of Industrial Diability Examiner and Qualified Medical Examiner, and took numerous courses in disability evaluation, most recently through the American Board of Independent Medical Examiners. He now holds title through the American Board of Disability Analysts of Senior Disability Analyst and Diplomate.

Although utilizing several techniques of practice in his office, he essentially utilizes a light force technique, called Activator Methods. This is a protocol of analysis and treatment using an instrument to deliver the thrust to the specific joint that is misaligned, causing little discomfort to the patient. It does not involve the traditional manual adjustments, or twisting or turning of the neck or low back. In fact, Dr Doholis, was an instructor in Activator Methods for an eleven year period, helping instruct other doctors on that method of treatment.

As a natural health practitioner for almost 30 years, Dr. Doholis has always been interested in diet and supplements as part of the normal regimen of his patients. He has done extensive personal research into many of the top diets, trying a few of them and realizing part of the process or goal. Most diet and exercise programs are essentially "quick fix systems" that give you limited return for your efforts, since you usually end up back where you started, or worse, in 3-6 months!

However, only by dealing with all areas of your life in a methodical balanced manner,
'bit by bit,' with YOUR GOOD HEALTH as the final goal, can any of these diet or exercise programs have any validity. Some do, most don't, and this book will give you pointers on what to do in areas you haven't dealt with to optimize your health and get you back on the road to health.



Lectures

Dr. Doholis is available on a limited basis for speaking engagements/lectures.
Click here for more information.

Call his office for details: 602-224-5141.